An open source FFF 3D printable electric violin.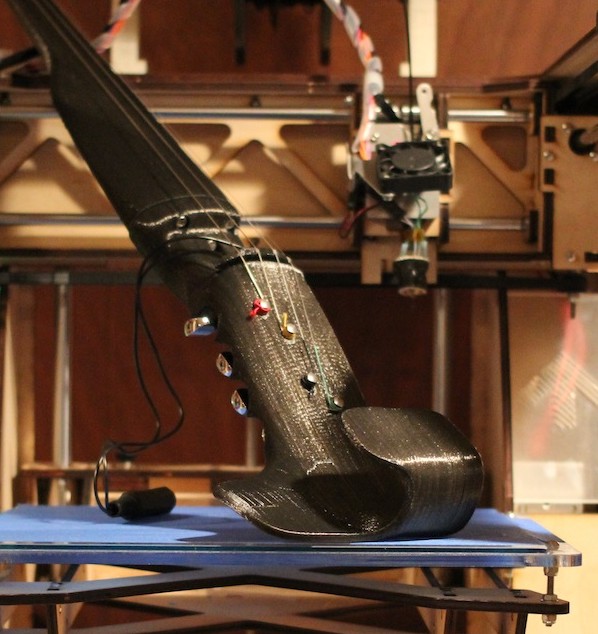 The F-F-Fiddle (pronounced eff-eff-fiddle) is a full size electric violin that can be produced using common FFF-type 3D printing equipment. Total bill of materials (BOM) cost of the instrument is currently about $250 if you print the parts yourself. On this page you'll find links to the files needed for manufacture, assembly, and design of the F-F-Fiddle. To get updates about the project sign up for my e-mail list. While you're here, check out other OpenFab projects on the portfolio page.
Digital Design and Manufacturing
I designed the F-F-Fiddle in Autodesk Fusion 360 over the course of about three months. The design is based on dimensions measured from a classical violin, and all of the instrument's data (dimensions, shapes, etc) is contained within a digital design file (CAD file). With all of that data contained in that digital file, it was easy for me to print the violin and iterate on my design until I made something that worked. Now, with that digital design, the F-F-Fiddle can be shared globally, and anyone with a 3D printer can reproduce this exact design locally. Digital design and fabrication tools empowered me to make a violin and to share it world-wide!
Open Source Hardware                             
The F-F-Fiddle is licensed as Creative Commons Attribution Non-Commercial Share Alike. This means that you are welcome to modify and distribute the design and derivatives thereof. You must, however, maintain an open design and give credit to OpenFab PDX, LLC with all derivatives and copies. You may use the F-F-Fiddle for commercial purposes if you agree to send 10% of your gross revenue from use of the design to OpenFab PDX, LLC every six months. Paypal: payments@openfabpdx.com. If you wish to use the design to sell a product, such as a 3D printer, please contact me.
I believe that opening the design and encouraging you to do the same will result in the maximum amount of cool 3D printed instruments and musical awesomeness.
Designed for FFF Printing
All parts can be printed without support material by home FFF style 3D printers. In addition, the F-F-Fiddle is designed to showcase 3D printing technology: the chin and shoulder rest positions can be customized on each instrument, I embrace the flat build surface, and I use curvy internal wire routing (only possible with 3D printing). The semi-hollow infill of the 3D printer leaves space for sound to resonate—this isn't a solid-body instrument! The printed layers also leave a surface finish reminiscent of the wood grain of a traditional instrument.
Iterated for Playability
The current fiddle is the seventh physical prototype and the eighth revision of the design. Each revision was played and improved for playability. I'm still iterating, and each F-F-Fiddle is a little nicer to play. I'm to the point where I'm ready for you to try it!
What You Can Do:
Make one. Download the CAD files off of Thingiverse and use the assembly documentation, below. You can also download the assembly instructions as a PDF.
Buy one. I offer complete builds, full kits, printed part kits, and purchased part kits. Prices are listed below, contact us to choose colors and place an order.
Join the community. Sign up for my e-mail list and be the first to know about design changes, opportunities to contribute, new products, and other F-F-Fiddle news. You can also join the F-F-Fiddle Builder's Group to offer your feedback and get support from other Builder's. If you want to play with the native design files, you can join the design group on Autodesk Fusion 360, just contact me and I'll add you.
F-F-Fiddle Pricing:
| Assembled F-F-Fiddle | Full F-F-Fiddle Kit | Printed Parts Kit | Purchased Parts Kit |
| --- | --- | --- | --- |
| $750 | $475 | $175 | $350 |
| Fully assembled F-F-Fiddle, ready to play. | Full kit with everything you need to build your own. | Includes the Neck, Bout, and Bridge parts. | If you want to print your own parts, order this kit of purchased parts. |